For our latest covid-19 guidance for charities, please visit our coronavirus pages on NCVO Knowhow.
Following the prime minister's speech on Sunday evening, the government has published Our plan to rebuild: the UK government's covid-19 recovery strategy. The document is intended to provide further details about the government's proposed plan to ease the lockdown and rebuild the economy and society as we get through the worst of the pandemic.
There are still many questions that have been left unanswered. But one message has been made clear: there is no quick return to 'normality', there are no easy answers. The plan itself will inevitably be adapted and changed, depending on how this first easing of the restrictions impacts on the number of cases and as understanding of the virus develops.
We will hopefully get further clarity on some of these issues when the government publishes its 'covid secure' guidance for workplaces later this week. We will update our coronavirus guidance page once we have seen this guidance.
For now,  this blog sets out what we know so far and what charities need to think about.
And the Institute of Government has distilled the whole government document in a very helpful infographic.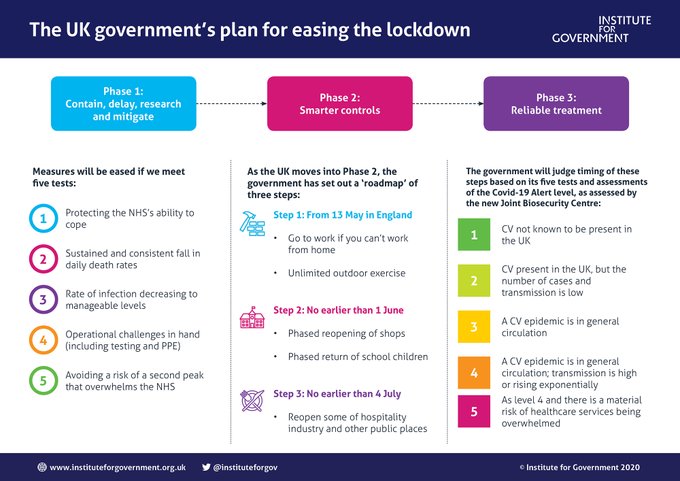 The different 'steps' and how they will affect charities 
For the foreseeable future, workers should continue to work from home rather than their workplace, wherever possible. This includes those of us who are working for charities – so remote working is likely to become the new normal for many of us.
The rate of infection remains too high to allow the reopening of schools for all pupils yet. So the process will be phased for early years settings and schools, and this will also have differing implications for charitable schools and education providers.
Opening non-essential retail is also intended to happen in phases from 1 June. This includes charity shops, which are likely to face the additional challenges of ensuring their staff and volunteers are supported in their return. Another key concern is whether the public will have the inclination to go into shops at all.
The plan indicates that reopening indoor public spaces and leisure facilities may only be fully possible significantly later depending on the reduction in numbers of infections. The current assumption is that this won't happen until July at the earliest. This means that charities delivering leisure services will continue to be unable to operate, so it will be important to ensure an extension of the procurement guidance. 
Cultural and sporting events will be allowed to take place only if they do not involve large-scale social contact, meaning that charities will have to continue cancelling all their planned fundraising events. This is going to be a real challenge for charities, because the social distancing measures are likely to also mean that street fundraising won't be possible for a very long time. So we are potentially looking at a double whammy to their fundraising income.
There are still many questions
The plan doesn't mention where other settings such as small social gatherings will fit within the timeline. This is obviously a very important question for many charities that run activities such as support groups, advice, coffee mornings, and similar.
There are also questions for those charities that might fall within the areas where the lockdown restrictions are lifted sooner, but are worried about resuming their activities. Particularly if they are expected to provide a service under contract: what happens for example if the commissioner thinks the service should resume, but the charity provider disagrees and doesn't want to put staff/volunteers at risk?
Tied into all this is the whole issue of the Job Retention Scheme, and whether it will be extended further in a way that covers the variety of activities that charities deliver. The availability of the scheme needs to be extended so that it continues to be available for organisations whose ability to operate remains constrained due to social distancing requirements, and the effect on income that they have. No charity wants the scheme to last for longer than it needs to, but it's absolutely clear it must stay in place until at least something approaching normal operations can resume.
What next?
The key question is also: how will all this be implemented? What practical steps will each charity need to take, to ensure it can resume its activities not only in compliance with the government's guidance but also safely?
We will be helping our members think through these issues over the coming weeks, so please keep visiting NCVO's coronavirus support page.