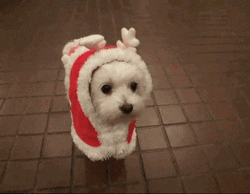 Our former colleague David Kane gave the gift of data to compile an excellent Christmas-themed post on 360 Giving. Here in our research grotto, we've been doing some festive data mining of our own to discover the charities that reflect the yuletide spirit in their activities – and their names.
Charities do good all year round, but Christmas is often a particularly busy time for many, with a range of activities from night-shelters, to food banks, Christmas gift boxes and events to prevent loneliness.
These are our top 12 Christmassy charities:
Christmas for Kids
Christmas for Kids is a small charity providing musical theatre performances in children's hospices across England at Christmas time. There are 47 more charities in England and Wales with 'Christmas' in their name.
Little Elves Community Pre-School
What would Santa do without his little helpers? Little Elves Community Pre-School offers community-based pre-schooling for children in Hampshire.
Stockings from Santa
Stockings from Santa is recently registered charity aiming to send out stockings packed with free gifts to families who otherwise would struggle to provide gifts for their children come Christmas time. Solely run by the founder Abbey who wanted to keep her mum's Christmas spirit alive after she passed away.
Gingerbread
Gingerbread is a large national charity working with single parent families since 1918. They provide expert information and advice and campaign for the two million single parent families in the country.
The Candle Trust
The Candle Trust is a medium-sized charity that provides day care for young people with autism and part time overnight stays in Plymouth.
Fir Tree Centre
The Fir Tree Community Association aims to enrich the lives of people living in Merthyr Tydfil, Wales. Its centre includes a community café, activity programmes and offers room hires.
The Biscuit Fund
The Biscuit Fund is small charity that offers direct financial support to people in poverty. Solely run by volunteers who remain anonymous, they operate almost solely online. They do this by keeping an eye on help forums for people in need of financial assistance.
Give a Gift
Give a Gift is a charity formed through a partnership of organisations in Leeds aimed to facilitate better relations between disparate communities through supporting, volunteering and raising funds for good causes.
Winter Streets Project
Winter Streets Project is a small charity set up in 2016 that provides survival kits for people living on the streets during the winter months. Kits include essential items such as thermal clothing, toiletries, food, first aid items, writing material, rain macs and much more.
Snowflake Trust
Snowflake Trust is a temporary rolling night shelter to homeless people who otherwise would be sleeping rough in Hastings and St Leonards during the winter months.
Angels International
Angels International is a small charity founded in 1990 who work on a range of things. This includes supplying medical aid and equipment, funding the construction of hospital buildings and promoting education and training for local medical staff and health workers in Eastern Europe and Malawi. There are 188 more charities with 'Angel' in their name.
Festive
Festive is a small charity supporting Christian faith and witness in UK's further education colleges and sixth forms by providing advice, prayer and resources online for students, teachers and local churches to use.
Like facts about charities? We compile the UK's authoritative picture of the charity sector – visit our UK Civil Society Almanac website for more and sign up to our emails for charity news.