It's the, er, Summer. Really. For a number of NCVO staff, our summer will include a stint volunteering at the Olympics; for others, some time off. If you're looking for summer holiday reading, and the thought of two weeks of Harold Robbins or Dan Brown leaves you bewildered, I've asked colleagues for suggestions of books you might take with you – or is that now download? So, welcome to our voluntary sector summer holiday reading list.
In no particular order, our choices are: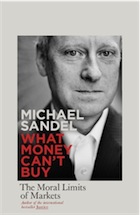 1. What Money Can't buy: The Moral Limits of Markets – Michael Sandel. Sandel's argument is that we're moving towards a society where everything is for sale – and that in a more unequal society this means that the distribution of income has 'sharpened the sting of inequality by making money matter more'. This feels relevant to the voluntary sector because clearly we arent immune from the forces of marketisation – and as such Sandel can help us think about the role and operation of markets in a civilised society. (Chosen by Veronique Jochum)
2. Impact Investing: Transforming How We Make Money while Making a Difference – Antony Bugg-Levine and Jed Emerson. In some respects this is the polar oppostite of Sandel's book. I first came across Jed Emerson many years ago when he talked about 'Blended Value' – and in particular how foundations might use their endowed capital to make a difference as well as their grant making. He's combined with Antony Bugg-Levine, now CEO of the Nonprofit Finance Fund, to write what the manifesto for what in the UK we're more likely to call social investment: blending social outcomes with financial returns when making investments. Bugg-Levine and Emerson are positive without being evangelical; they're challenging whilst recognising the limits of markets; and above all, they're relevant at a time when society is asking questions about just what the financial system is for. You might hate it, but you can't ignore it. (Chosen by Karl Wilding)
3. Poor Economics: A Radical Rethinking of the Way to Fight Global Poverty –  Abhijit Banerjee and Esther Duflo. Poor Economics counters the usual grand-sweeping theories about aid, using evidence and stories to illuminate what it's like living on less than $1 a day. Why, for example, the poor might avoid free public healthcare: because all too often under-qualified doctors and nurse absenteeism mean that a trip to the free clinic can be less like the NHS experience and more like playing Russian roulette. (Chosen by Char Ravenscroft)
4. Five Good Ideas: Practical Strategies for Non-Profit Success – Alan Broadbent and Ratna Omidvar. Five good ideas is an excellent handbook for voluntary sector managers that I came across on a trip to Canada. Covering everything from communications to financial management to leadership, the structure is wonderfully simple and short: 5 actionable ideas are followed by 5 (largely Canadian, but still relevant) resources. The ideas come from the Maytree Foundation's long-running 'lunch and learn' series – and are 100% grounded in what practitioners believe helps them run their own organisation better. I would love to repeat this in the UK…so if there are any funders out there… (Chosen by Karl Wilding)
5. And a few books we haven't yet read…but are on our radar: Share or Die looks pretty good: its another collection of essays based around the theme of collaborative consumption, or the sharing economy. My interest was sparked by one of the authors, Venessa Miemis, whose contribution concludes: We're all in this together: find your tribe and go change the world. I'm also looking forward to Beth Kanter's Measuring The Networked Nonprofit, which looks to build on the excellent Networked Nonprofit, by helping voluntary oeganisations show what a difference engaging with social media is making.
So, what would you recommend we read this summer?